#Weltfrauentag2021
Joannah Menke überführte 2019 ihr handgemachtes Fashionlabel von Uganda nach Berlin. Sie schreibt eine Geschichte wie aus einem Märchenbuch. Doch von nichts kommt nichts, ist sie überzeugt…
(For English scroll down please)
TEXT: BETTINA ULLMANN   //   FOTOS: HASSAN ELMALIK
Wenn Joannah lacht, kommen so viele Töne auf einmal zum Vorschein, dass man meint, sie sei eine Jazzsängerin. Auch klingt es derart unbekümmert fröhlich aus ihrer tiefsten Seele heraus, als könne keine Laus jemals ihre Gedanken trüben.
Doch natürlich hat auch sie Schlimmes erlebt. Sogar eine ganze Palette jener Dinge, die man sich als Europäer gar nicht so richtig vorstellen kann. Da sie nicht mit ihrer Mutter aufwächst, bleibt ihr Mutterliebe fremd, das Haushaltsgeld reicht nicht für jahrelange Schulgebühren und schon als Kind muss sie in anderen Familien den Haushalt schmeißen. Mehrmals läuft sie Gefahr, von ugandischen Rebellen entführt zu werden. Sie hat eine persönliche Strategie:
"Wissen Sie, ich halte mich

immer an die positiven Dinge,

die mir das Leben schenkt."
Harte Arbeit ist sie gewohnt. Nachdem sie nach der Schule bei einem Schneider in wenigen Monaten nähen lernt, eröffnet sie ihren ersten kleinen Fashionshop. Sie ist 19 Jahre jung, der Shop winzig, der Verdienst ebenso. Doch in kurzer Zeit ernäht sie sich einen Namen. "Die Leute mochten mich, sie nannten mich eine Designerin, Journalisten schrieben über meine Entwürfe. Ich habe gar nicht viel Marketing betrieben, meine Kunden haben meine Adresse weitergegeben." Und sie will wachsen, noch besser nähen lernen, sich erproben, weiterkommen. In einem großen Hotel macht sie einen kleinen Store ausfindig. Sie spricht den Hotelmanager darauf an, der verlangt aber 150.000 Ugandashillings als Miete.
"So viel Geld hatte ich nicht."
Für ein komplettes Outfit wie Hemd und Jacke bekam sie nur 10.000 Shillings, 15.000 wenn sie Futter und Reißverschluss enthielten.  Als Referenz: Ein Minimum-Einkommen beträgt in Uganda etwa 500.000 Shilling (113 Euro). Joannah mietet den Store trotzdem. "Dann musste ich halt noch mehr nähen. Manchmal habe ich 36 Stunden durchgenäht, damit ein Dress fertig wird." Doch die Touristen, die in diesem Hotel logieren, kommen aus allen Ländern der Welt, neugierig bewundern sie Joannahs Entwürfe, wo jedes einzelne Kleid mindestens ein besonderes Detail enthält. Wenn die Touristen zwei Tage nach ihrer Kleiderbestellung aber abreisen müssen, näht die kreative junge Frau mit der Uhr um die Wette. Jeder Zentimeter wird auf das individuelle Maß des Kunden angepasst.
"Ich liebte es, wenn meine Kleider in die Welt gingen."
Nach Kanada, USA, England, Frankreich und Deutschland. Und in viele afrikanische Länder natürlich. Geschäftlich geht es bergauf.
Mit 22 Jahren ist Joannah schwanger, doch sie bleibt alleine mit Tochter Rachel, die 2009 auf die Welt kommt. Sie schwört sich selbst: "Meinen Kindern wird es nie an Liebe mangeln, so wie ich es erlebt habe."
Drei Jahre später lernt sie Christian, einen jungen Studenten der politischen Ökonomie und Volunteer aus Deutschland kennen. Es vergehen ein paar Monate, bis sich die beiden eingestehen, dass sie sich ineinander verliebt haben. Leider ist Christians Volontariat in Uganda schon vier Monate später abgeschlossen und er muss nach Deutschland zurückkehren. Doch er kommt immer wieder nach Uganda zurück. Als sich das Paar auch verlobt, wird es Zeit, dass Joannah auch einmal Deutschland kennenlernt.
"Ich hatte solche Angst vor Deutschland!"
Auch ging es ja darum, ob sich Tochter Rachel in Deutschland wohl fühlen kann? Damit die Afrikanerin nicht gleich den Kälteschock ihres Lebens erfährt, ist Christian klug genug, sie für den Monat August einzuladen. In Oldenburg lernt Joannah dann auch ihre Schwiegereltern kennen.  "Meine Schwiegereltern waren natürlich schon recht aufgeregt mich kennenzulernen, zumal Christian und ich sie ja auch vor vollendete Tatsachen gestellt haben. Unsere Heirat war schon beschlossene Sache." Sie lacht dieses glückliche, ansteckende Lachen. Doch wie hat ihr selbst dieses Land mit seinen vielen, weißen Menschen gefallen? "Also ich koche und esse ja sehr gerne. Und als erstes wurde mir Grünkohl mit Kassler und Pinkel serviert."
"Actually Grunkohl has stolen my heart in German food."
Grünkohl hat mein Herz für die deutsche Küche gestohlen. Erstaunlicherweise liebt sie dieses traditionelle, norddeutsche Gericht auf Anhieb, das selbst für deutsche Gaumen gewöhnungsbedürftig ist. "Ich fand alles schön. Die Natur, die Städte, die Menschen. Und Christians Eltern sind sehr, sehr liebe Leute. Jetzt konnte ich meine Entscheidung, mit meiner Tochter nach Deutschland zu gehen, guten Gewissens treffen."
In ihrer ersten deutschen Wohnung findet die Nähmaschine im Korridor ein neues Zuhause. Das Business beginnt mit Kleidern für die afrikanische Community in Berlin. Joannahs Können und Style sprechen sich schnell herum. Sie legt das hart verdiente Geld zur Seite und spart für einen eigenen Laden. Im März 2019 ist es soweit: In Berlin Köpenick bezieht sie ein Ladengeschäft. Der Laden im Kietz 18 hat zwei Räume plus eine kleine Küche, perfekt für sowohl einen Verkaufsraum als auch ein integriertes Nähatelier. Kietz ist eine der hübschen slawischen, unter Denkmalschutz stehenden Fischersiedlungen aus dem 18. Jahrhundert direkt am Dahmeufer. Joannah hat keine Zweifel, dass sie hier glücklich wird. Und tatsächlich, die Kunden finden zu ihr — und zwar vor allem deutsche Kundinnen mit einem ausgesuchten Geschmack und Lust auf Neues. Das vielfältige, kreative Sortiment ist immer noch Stich für Stich handgemacht und zu moderaten Preisen erhältlich. Joannah arbeitet hart und erwirtschaftet einen eigenen Beitrag zu ihrer nunmehr 4-köpfigen Familie. Darauf ist sie zurecht auch stolz. "Das Schönste an meinem Beruf ist der direkte Kontakt zu meinen Kunden. Dass ich so viele Menschen kennenlernen darf, ist mein größtes Geschenk."
www.joray-fashions.de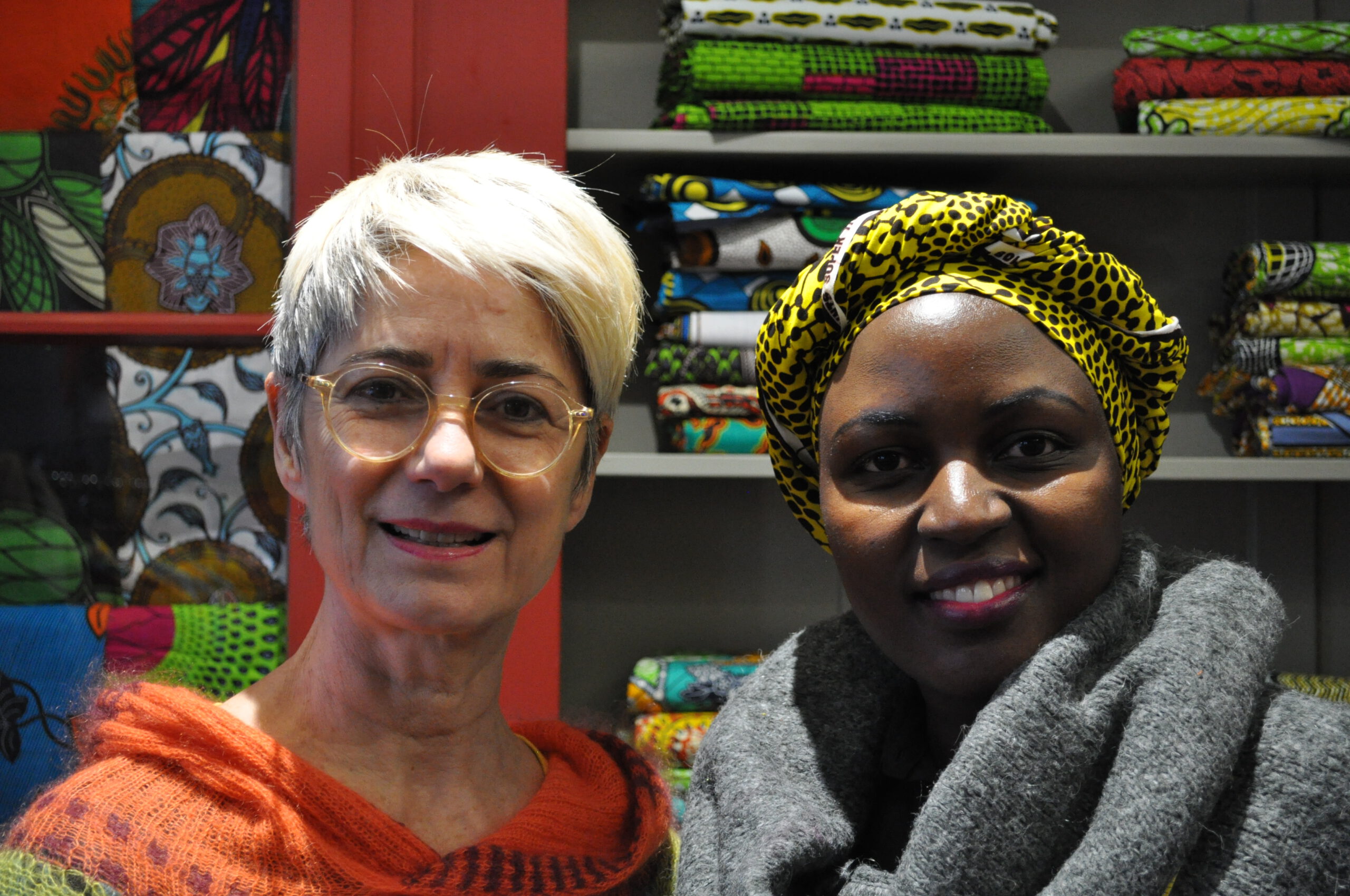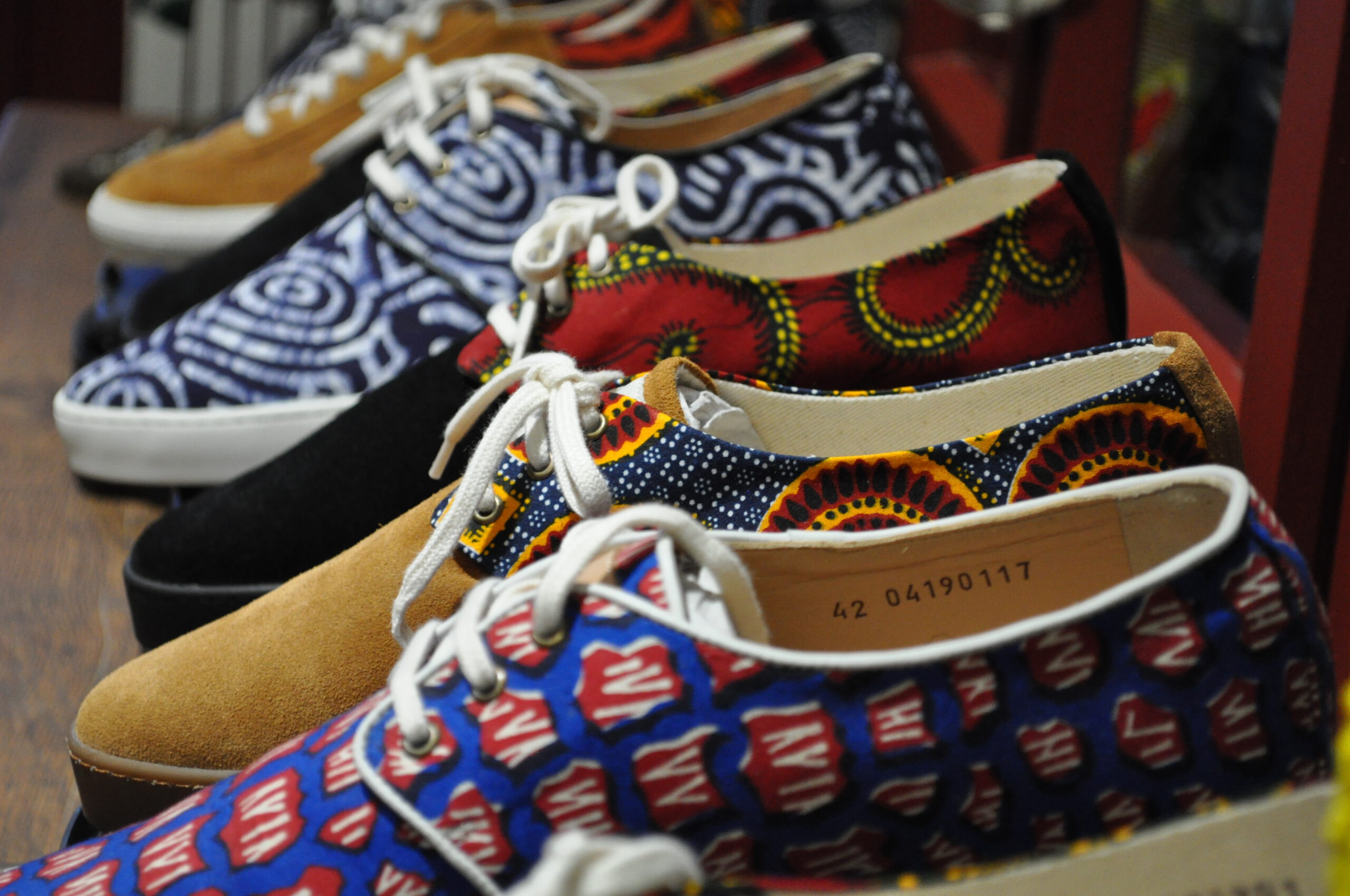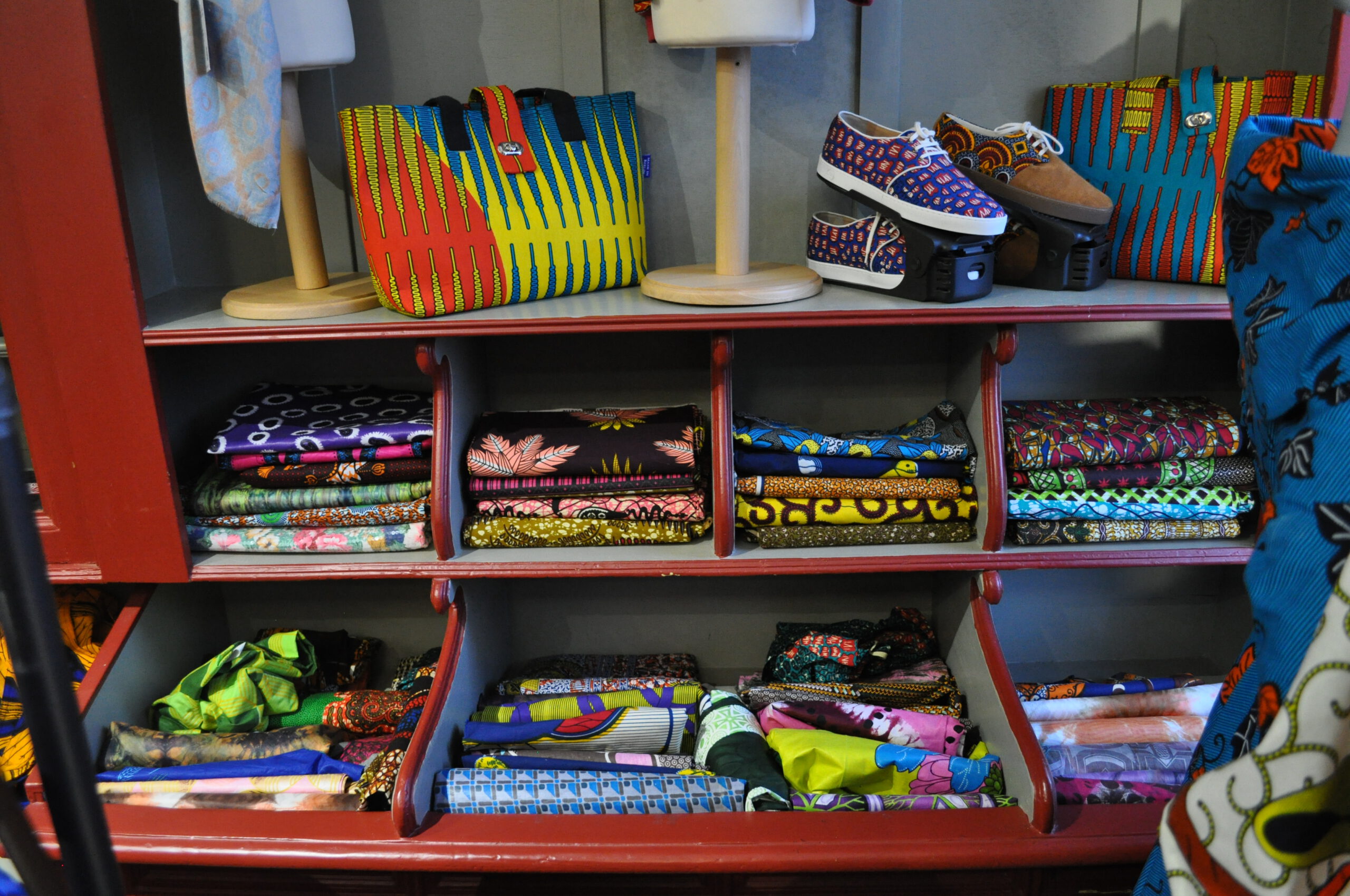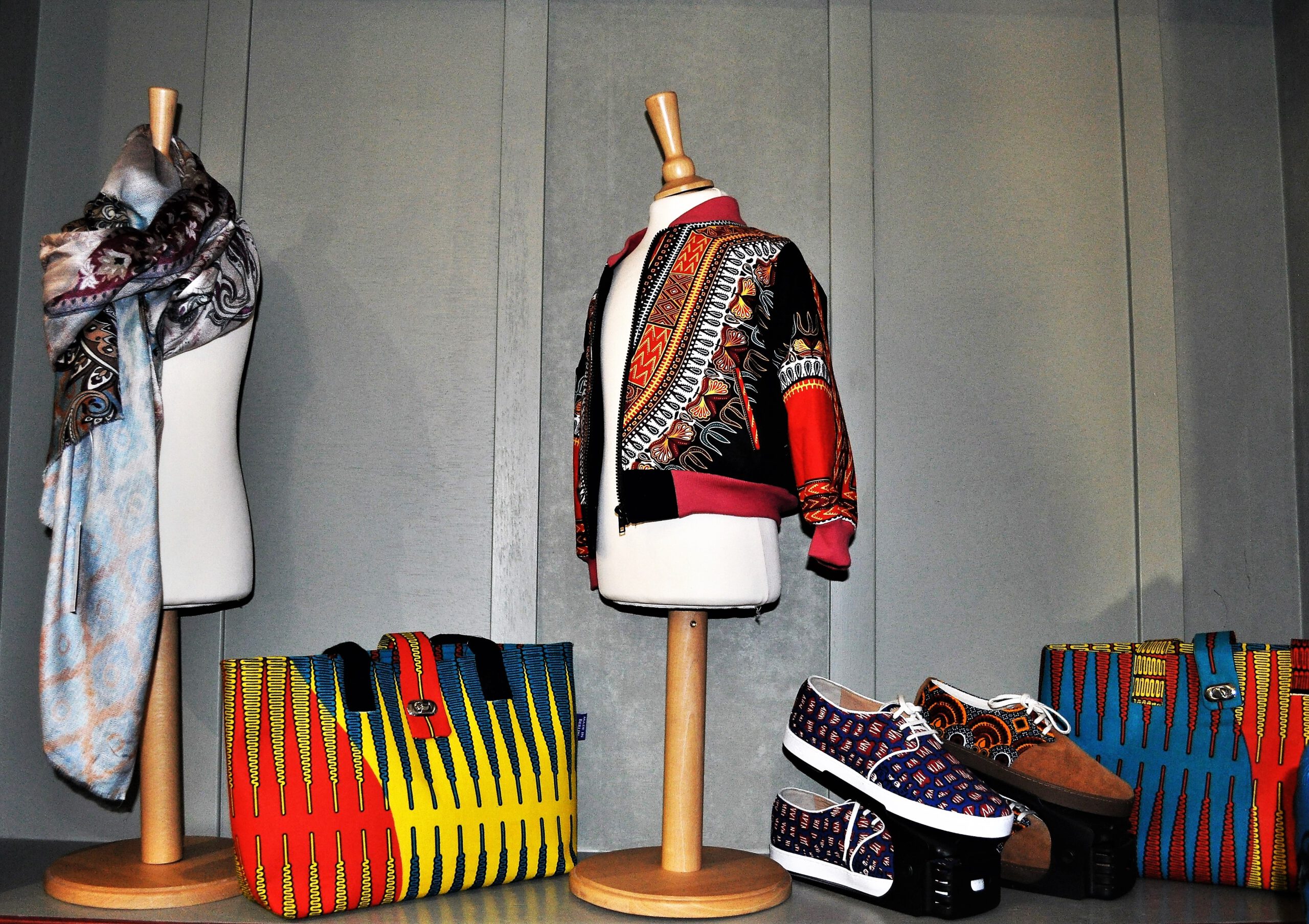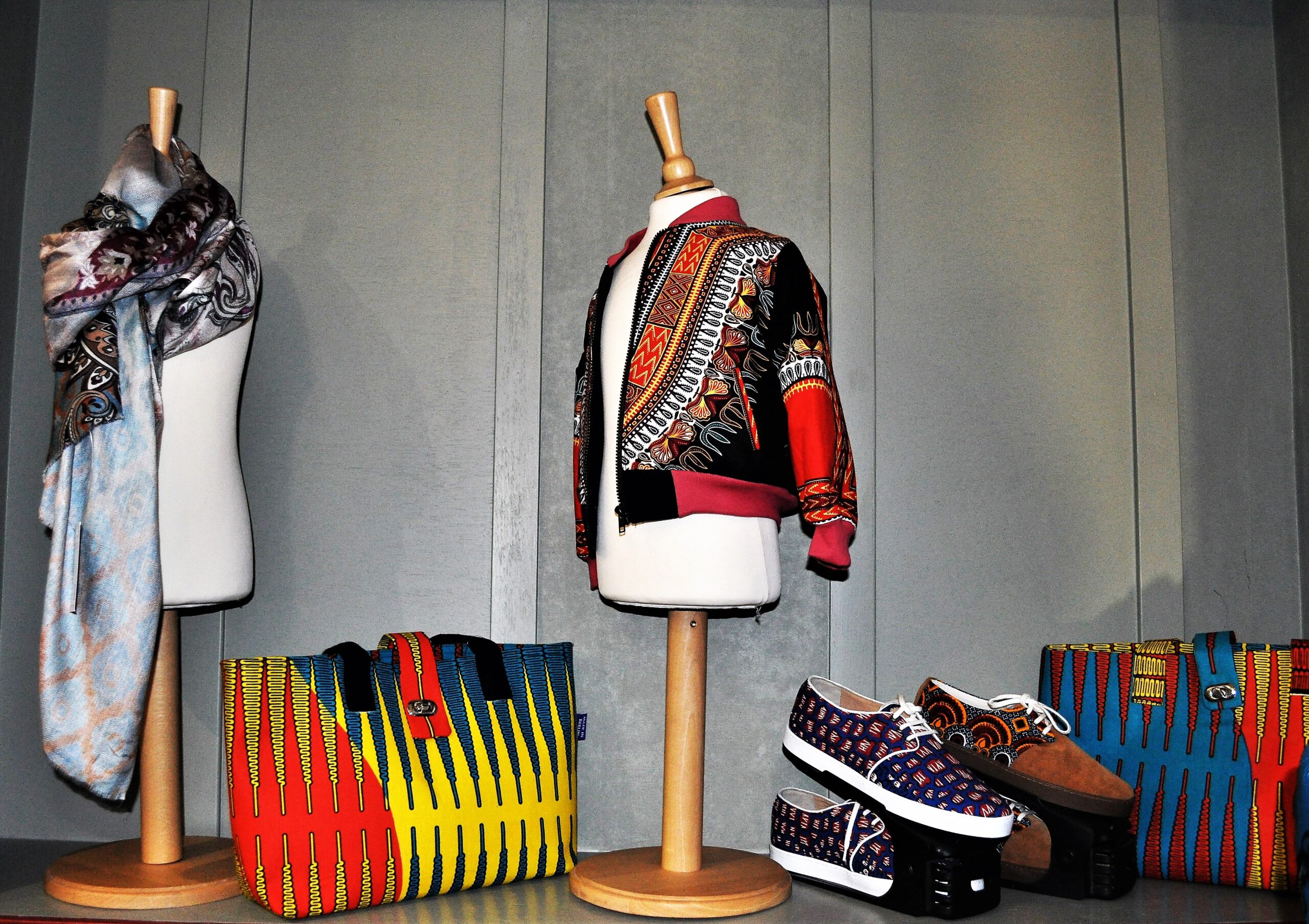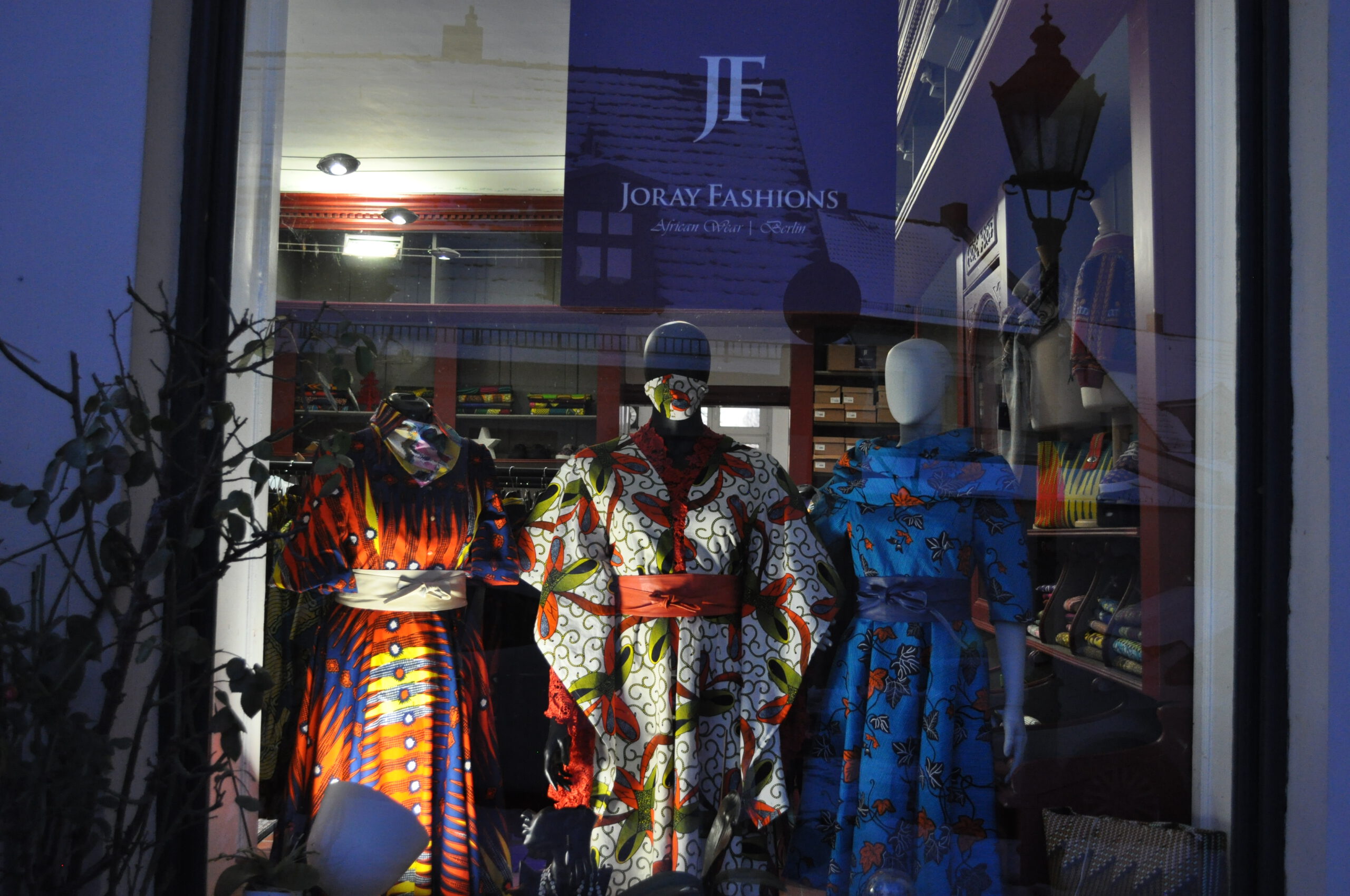 English:


JOANNAH´S FASHION – THE FIRST SHOP WITH 19



#womensday2021
Joannah from Uganda writes a story like a fairy tale book. But nothing comes of nothing, she is convinced…
TEXT: BETTINA ULLMANN // PHOTOS: HASSAN ELMALIK
When Joannah laughs, so many sounds come out at once that you think she's a jazz singer. It also sounds so carefree and cheerful from her deepest soul, as if no horrors can ever tarnish her thoughts.
Of course, she too, has experienced bad things. A whole range of things that you, as Europeans, cannot really imagine. As she does not grow up with her mother, her mother's love remains alien, the household money will not cover years of school fees and already as a child she had to manage the household duties for other families. On several occasions she runs the risk of being kidnapped by Ugandan rebels. She has a personal strategy:
"You know, I always stick to the positive things that life gives me."
She is used to hard work. After school she goes to a tailor and learns how to sew, then she opens her first small fashion shop. She is 19 years young, the shop tiny, the earnings as well. But in a short time she sews a name for herself. "People liked me, they called me a designer, journalists wrote about my designs. I didn't do much marketing, my customers passed on my address", she remembers. She wants to grow, to learn to sew even better, to test herself, to move on. In a large hotel, she finds a small store. She addresses the hotel manager, who asks for 150,000 Ugandan Shillings as rent.
"I didn't have that much money."
For making a complete outfit like a shirt and jacket I only get 10,000 shillings, 15,000 if they contain lining and zipper." For reference: A minimum income in Uganda is about 500,000 shillings (113 euros). Joannah rents the store anyway. "Then I just have to sew even more. Sometimes I sew solidly  for 36 hours to finish a dress." Tourists who stay in this hotel come from all over the world, curiously admiring Joannah's designs, where each individual dress contains at least one special detail. If the tourists have to leave two days after ordering clothes, the creative young woman sews around the clock. Every centimetre is adapted to the individual measurements of the customer.
"I loved it when my clothes went around the world, to Canada, USA, England, France,  Germany and naturally to many African countries."  
Business is on the up! At 22, Joannah is pregnant, but she remains alone with daughter Rachel, who was born in 2009. She swears to herself: "My children will never experience the lack love that I experienced as a child."
Three years later, she meets a volunteer from Germany, Christian, who is a young student studying political economics. It takes a few months for the two to admit that they fallen in love. Unfortunately four months later, Christian's voluntary work in Uganda has come to an end and he has to return to Germany. However  he keeps coming back to Uganda. When the couple get engaged, it's time for Joannah to get to know Germany.
"I was so afraid of Germany!"
"It was also a question of whether my daughter Rachel would feel comfortable in Germany?" So that the African woman does not immediately experience the cold shock of her life, Christian is wise enough to invite her to stay for the month of August. In Oldenburg Joannah meets her in-laws.  "My in-laws were of course quite excited to get to know me, especially since Christian and I also presented them with a fait accomplis. Our wedding had already been decided." She laughs with that happy, infectious laugh. But how did you like this country with its many white people? "So I like to cook and eat. And the first thing I was served was kale with Kassler and Pinkel (special sausages)." Surprisingly, she loves this traditional, northern German dish straight away, which even for German palates takes some getting used to! "I thought everything was beautiful. Nature, cities, people. Christian's parents are very, very dear people. As a result I was able to make the decision to emigrate to Germany with my daughter and a clear conscience."
"Actually Grunkohl has stolen my heart in German food."
In her first German apartment, the sewing machine finds a new home in the corridor. The business starts with dresses for the African community in Berlin. Joannah's skill and style quickly spread. She puts the hard-earned money aside and saves for her own shop. In March 2019, the time has come: she moves into a shop in Berlin Köpenick. The shop at Kietz 18 has two rooms plus a small kitchen, perfect for both a sales room and an integrated sewing studio. Kietz is one of the beautiful Slavic, listed fishing settlements from the 18th century directly on the Banks of the Dahme. Joannah has no doubt that she will be happy here. And indeed, the customers find her — especially German customers with selective taste and desire for new things. The diverse, creative range is still stitch by stitch handmade and available at moderate prices. Joannah works hard and makes her own contribution to her family of four. She is rightly proud of that. "The most beautiful thing about my job is direct contact with my customers. The fact that I can meet so many people is my greatest gift."
www.joray-fashions.de