A NEW SERIES START
@KEELAN WHITMORE
#DANCER #USA #GERMANY
www.keelanwhitmore.net/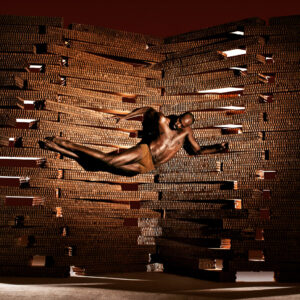 Very often artists see and feel well how the surrounding society is functioning. They are no scientists and no  politicians, but constantly working on important details about social and political issues and processes. Their personal life, way of thinking and artwork itself is reflecting phenomena and reproducing them into an artistic expression. With this article I am starting a new series with international artists living not in their home countries. It is a kind of cultural comparison and reciprocal awareness about each other.
I am curious to learn about their life-story, their point of view on themselves, their art, the country they are coming from and the society they are living in. My questions are: What do you appreciate, and what do you miss in your home- and guest country?
I am very honored to open this serie with the extraordinary US-dancer KEELAN WHITMORE, who switched from a hundred percent classical dance company to the German Tanztheater in Münster and the choreografer Henning Paar today published in Westfälische Nachrichten.
With great thanks to Keelan Whitmore and the cultural editor of the Westfälische Nachrichten.
You can also find the full interview with this Link. Texts are in German, we are working on the english translation.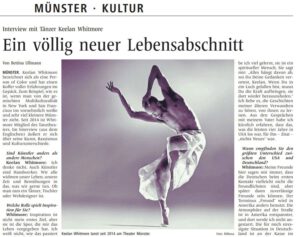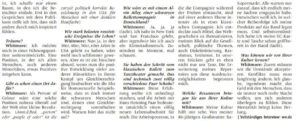 BIOGRAFIE
Keelan Whitmore wächst in Rockford (Illinois, USA) auf. Seine künstlerischen Begabungen weisen schon als Schulkind in mehrere Richtungen. In der Kirchengemeinde ist er für seine außergewöhnliche Stimme bekannt, musikalisch wechselt er später zur Klarinette. Als Schüler möchte er Architekt werden, doch weil er sich statt des Sportunterrichts für das Fach "Kreative Bewegung" entscheidet, wird auch sein Talent für den Tanz sehr frühzeitig entdeckt. Mit 13 Jahren bittet er seine Lehrerin um eine Gelegenheit, selbst einmal unterrichten zu dürfen. Sie erlaubt es und bestätigt anschließend: "Ich glaube, Du hast Deine Berufung gefunden, Keelan." Das Multitalent absolviert seine Tanzausbildungen an der Interlochen Arts Academy, der Joffrey Ballet School/New School University und dem St. Mary's College. Von 2001 – 2006 tanzt er in dem klassisch ausgerichteten Kansas City Ballet, dann wechselt er zum Alonzo King LINES Ballet und Suzanne Farrell Ballet, mit dem er oft rund um die Welt tourt. Whitmore war Co-Founder eines disziplinübergreifenden Kunstzentrums in Kansas und der erst 23-jährige Tänzer hebt seine erste eigene Tanzcompagnie "Quixotic Performance Fusion" aus der Taufe. Es gelingt ihm innerhalb kurzer Zeit eine halbe Million Dollar zu organisieren, damit dieses Projekt, das heute noch existiert, durchstarten kann. Neben seinen Engagements arbeitet er als Choreograf und Tanzpädagoge, wofür er zahlreiche Auszeichnungen erhält.
Seit der Spielzeit 2014/15 ist der Keelan Whitmore Mitglied des TanzTheaterMünster unter der Leitung von Hans Henning Paar. Sein Publikum schätzt den tanztechnisch ungewöhnlich breit aufgestellten Tänzer für sein authentisches Charisma. Sobald er die Bühne betritt, ist der Raum gefüllt – mit Ausdruck, Gefühlen, Bildern und einer archaisch anmutenden Ahnung von der Vergangenheit und Zukunft unser aller Geschichten.